Hello Parents! You should be getting a robo call tonight regarding a virtual visit with your child to all their google classrooms. You child will know how to get to log into the classes. Please take opportunity to explore with your child and watch the teachers videos.

Tomorrow night is Virtual Curriculum we will be asking you to log into your child's google classrooms with them and view a video posted by their teacher. I will be sending out a robo call to remind you tomorrow. If after you watch and explore the teachers classes and you have questions, don't hesitate to contact us.

Get ready for our Meet the Teacher virtual night! next Wednesday. This is a great opportunity to familiarize yourself with your child's google class pages, the teacher, and what they will be teaching. All you will need to do is have your child log into their classes from home and watch the videos posted in the classrooms. We hope you take advantage of this opportunity to learn who and what we are doing in class

Please make sure you student is bringing their laptop, bag, and charging cord to school if they are taking them home. We also need them to charge them at home so that they are fully charged for their 1st hour of the day. If there is an issue with the laptop please bring it in so that we can diagnosis it and provide a replacement if needed. Please remind your child to take care of the laptop since any damages you are responsible for.

Just a reminder we need your children here by 7:18 when we let them into building. Class Starts!!!!!! at 7:25. We don't want students to start accumulating tardies early on. Just a reminder that school policy is no head wear. Girls may wear a headband to hold back there hair but it must be one piece and not a rolled up bandana or winter gear.

Please be mindful of dress code as your students are coming to school. No slides or sandals without heel straps. Any clothing violation we offer a clothing fix or call home to bring something. They will not be allowed to go to class until its fixed. Thanks for your support.

First Full Day under our belt. Thank you to all the parents for getting your student here on time at 7:18. Remember there will be no school on Friday and Monday. Students are settling in to school expectations, its going to be a good year.

First Day of School is August 30th!!! It will be a half day. To help your child get orientated for this we are having an Ice Cream Social on Thursday August 19th, in media center. 8th grade at 9am, 7th grade at 10am, 6th grade at 11am. Parents are welcome! More information will be coming in the mail soon. We are planning on running Fall Sports- Football 7th and 8th grade, Volleyball- 7th and 8th grade. Please schedule required physical now! Most urgent cares will do them for $20

Just a reminder to students and parents that all homework was due last Friday. Students have finals this week. Please check google classes for the days. Students who do not pass their academic classes with at least a 60% will need to take Summer school to make up the grade. Parents please continue to look for information regarding Summer School on our district and MS page.

Just a reminder the District is offering free vaccine shots next Wednesday June 2nd from 12-6pm. These are available for your child or yourself. Again these shots are not mandated by the school but are just an offering for those who wish to vaccinate their child. Forms are located on school info. page or will be available at site. If you would like to participate please call the Middle School

As the school year is winding down, June 3rd will be the last day for our in person learning in the afternoons on Tuesday and Thursdays. This will also be the last day teachers will be taking late assignments. Check with specific teachers for last day to take assessments/ test. Friday June 11th we will wrap up the 20-21 school year with a half day. We will be running the standard virtual learning schedule for Fridays.

Hello Parents June 2nd the district is offering free vaccines to students ages 12-17 who are accompanied by their parent or guardian at the HS location. This is not a requirement from the district but just an opportunity for those who wish to vaccinate their children. The printable form and fact sheet are both located on the Middle School School Information page. Forms will be available to fill out that day as well.

7th graders will begin their MSTEP testing tomorrow. If you are able to come in please arrive at 7:30am Tuesday and Thursday . They will be done testing at 11am. Tuesday we will be testing ELA, Thursday Math. Bus pickup location and times are posted on main district webpage. Call the office if you have any questions

Parents please help us out and make sure your child is logging into their advisory class Tuesday - Thursday at 11:30. We are using this class as our main way to track attendance. If they are not logging in, this may generate truancy issues. Please help us out so we can sustain accurate attendance on your child.

Thank you 6th graders for successfully completely the MSTEP testing this week. If you didn't make the testing then please try and make it in for make ups next Tuesday at 12:30. Next week its 7th graders turn!! If you are able to come in please arrive at 7:30am Tuesday and Thursday . They will be done testing at 11am. Bus pickup location and times are posted on main district webpage. Call the office if you have any questions.

Today we are testing the 6th graders on English portion of MSTEP. We will need all 6th graders back Thursday 7:30-11am for the Math portion of the MSTEP. Please contact office with any questions.

Make ups for 8th grade SS and Science MStep are tomorrow from 7:30-11am. 6th graders- Your turn next week!!!!!! If you are planning on taking the MStep we will need you here Tuesday 27th at 7:30 for ELA MStep, Thursday 29th at 7:30 for Math MStep. Buses will be running for pickup.

We are completing our first week of testing with 8th graders that have come in to take the PSAT. Next week the 8th graders will be continuing state testing on Tuesday April 20th by taking the MSTEP Social Studies and Science portion online. They will need to bring their issued laptops in and make sure they are fully charged. We will start testing around 7:25.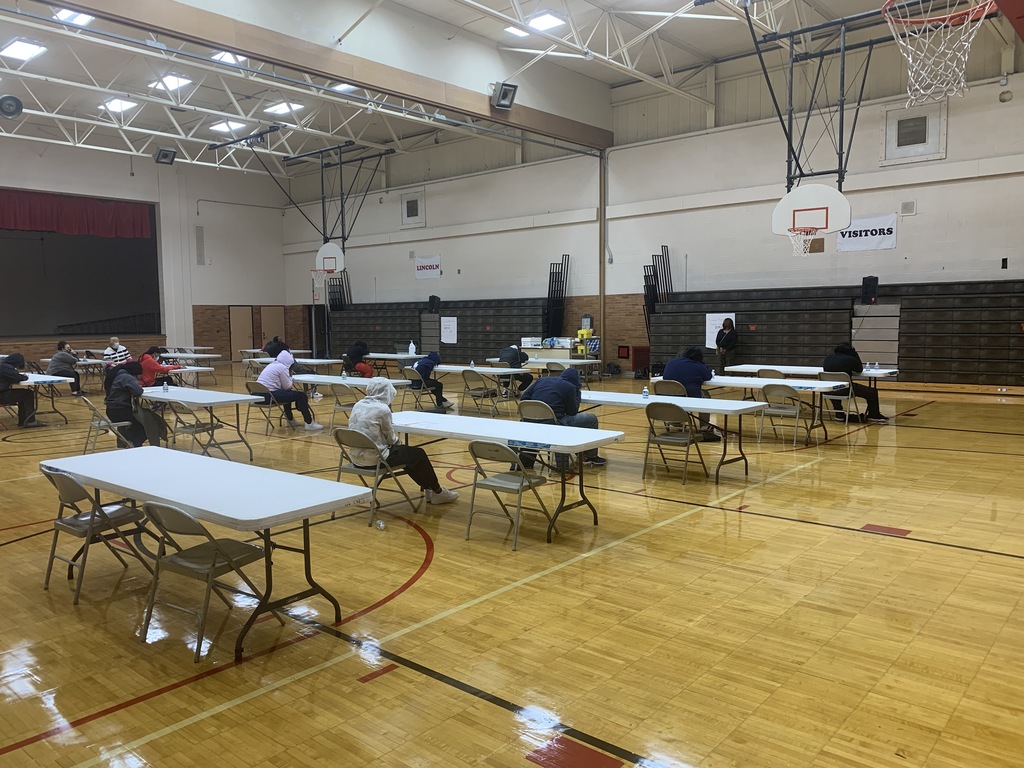 The state, at this time, is still requiring us to administer the PSAT and MStep standardized testing this year. Both are required to be in person at school. I have attached a letter detailing the test plans under our school information page We will be following all the CDC guidelines for in person learning. If you have concerns or need more information please don't hesitate to call the school.

Welcome Middle School Community to our new website! We hope you will be able to navigate and find the information that you need. If you have any concerns or ideas to make our site more friendly then let us know.